Posted by: nickbuol
Home Theater Decor Ideas Needed -
03/11/13
12:01 PM
Ok. I want to finally get some things done in my theater again. One thing that I was following was making my own DIY acoustic panels for the walls and then covering them in customer printed fabric that was still acoustically transparent. This means anything can be printed up and still not hurt the function of the panel.
I was thinking about getting six movie "posters" printed on the fabric to wrap them in. Put 3 on each wall appropriately and maybe a larger 7th one on the rear wall with the theater "name" on it or something.
I got the idea from here:
DIY Custom-Printed Movie Poster Acoustic Panels - cheap!
And here is an example of what one guy did. I would probably just do a black border around the "poster" and wrap the frame instead of having an exposed wood frame...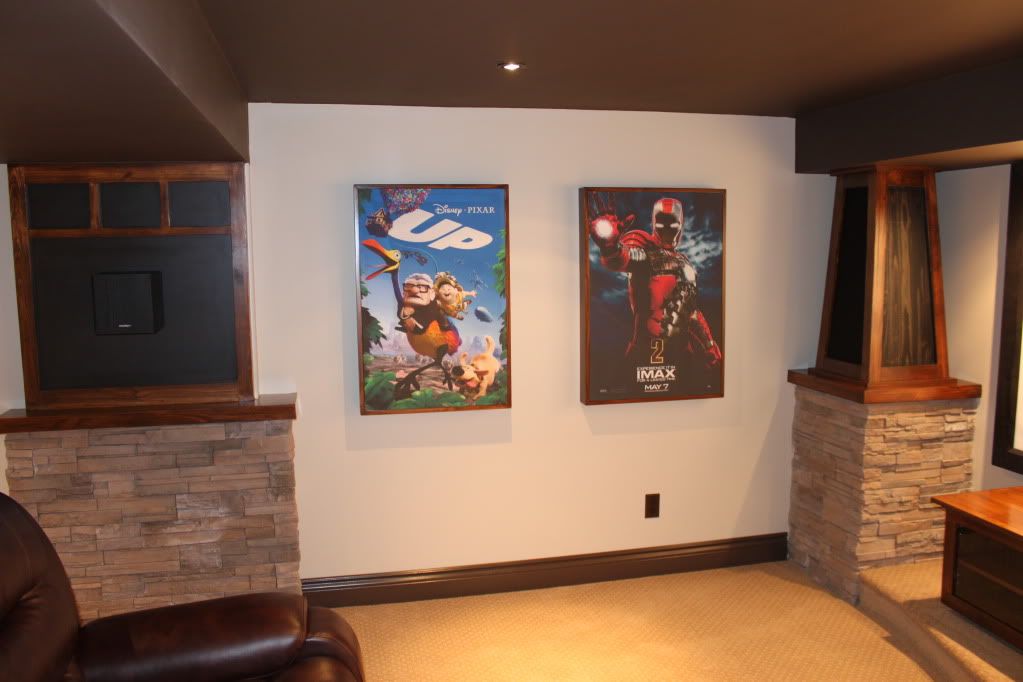 My wife thinks that will look tacky.
I still want/need acoustic panels, but my room is so plain, I don't know what else to do. I don't want shelves of movie knick-knacks since they will just add vibration points. I am just at a loss.
Ideas?
Here are a couple of photos. The colors are off a bit, but the walls are a subtle brown and the ceiling is a dark chocolate brown. The seats are more of a deeper, rich color than the "red" look.