Posted by: danmagicman7
Dan's Delightful Dorm Theater *Pictures inside* -
08/29/06
12:13 AM
Hello guys. It's been a while, I've just been lurking now and then during my busy summer.
If some of you recall last year, I brought my axioms to my room and had my theater be at the mercies of how my room was made. This time around, the room is at the mercy of the home theater.
So, without further adue, here are some pics.
If you look closely, you can see some light light on the back wall. I have 3 florescent lights on the back of the wooden "table." When its darker (or my camera doesn't have flash on) it looks really neat to see light emitting from behind the couch.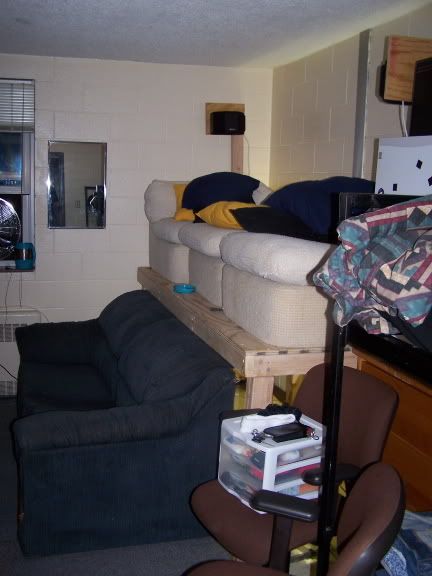 Couch pulled out for multi-level theater seating.
The set up, everything arranged. My desk is on the left, roomate's is on the right. When we watch a movie, the monitor goes on the reciever, and the right speaker moves to my roomate's desk.
Might just be the most built in hi-fi dorm theater in a small college dorm room. Since I'm at a private school...dont need to worry about people jackin my stuff.
Anyways...comments? Suggestions? I think i should move the speakers closer together to the center since the blue couch is so close to the speakers. They are about 5 feet away from the blue couch and about 7-8 feet apart.