Recently added item(s) ×

You have no items in your shopping cart.
Get free, friendly, expert advice call 1-888-352-9466 or
email
Profile for Member #3999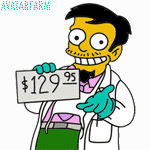 Join Date
02/06/06
04:53 AM
Last Seen
05/23/19
02:04 PM
About
Birthday
June 11
Occupation
Psychiatrist
Hobbies
I love the Simpsons, disc golf, comic books, classic rock, grunge, punk, and the descendents thereof.
First Name
J.P.
medic8r's Forum Signature
Bears, beets, Battlestar Galactica.
Forum Statistics
Most Online
2,082


Jan 22nd, 2020