Recently added item(s) ×

You have no items in your shopping cart.
Get free, friendly, expert advice call 1-888-352-9466 or
email
Home Theater
AVR or pre-pro + amp? How to tell
Hambrabi
06/05/23
12:21 AM
AVR or pre-pro + amp? How to tell
Should you upgrade from an audio video receiver (AVR) to an audio video pre-amplifier/processor (pre-pro) and amplifier separates? Sometimes the answer is obvious. If you own 4 Ohm speakers, then go ahead. If you regularly experience an AVR thermal shutdown event, then also yes. If you're a good neighbor living in an apartment, then no. If you're socioeconomically challenged, then also no.
For everyone else, the reasonable answer is "it depends". The average AVR outputs 60 to 100W RMS/channel into 8 Ohm. Yet it's easy to forget that most music listening (if you value your hearing) is below 1 Watt of power per channel. Loudspeaker in-room sensitivity comes in the form of "__ dB/1 Watt @ 1 meter", usually in marketing friendly in-room rather than anechoic measurements. 1 W is enough to rival a quiet gas lawn mower for loudness.
There's lot of reasons to be skeptical of mass market AVR and receiver power ratings. With packaging and power supply constraints, manufacturers are reluctant to provide true power figures. But if the marketing states "100W/ch RMS into 2 channels, all channels driven", you can be reasonably certain your 7.x.4 channel AVR has 200W total to draw from with no headroom. If you listen to stereo, that gives you a respectable 100W/ch. But across 11 powered channels, there's 18W/ch available on average from the pool (200W / 11 channels). I'm not the only person who's reached this conclusion:
https://www.axiomaudio.com/blog/how-to-buy-receiver
Dedicated amplifiers tend to state their designed power reserves/dynamic headroom, and so we treat their peak or dynamic power output differently. So an amplifier that's only rated at 125W/ch but has 3000W of dynamic headroom due to a pricey and bulky 60,000 microFarad stiffening capacitor means there's 1500W/ch available in stereo mode, or 375W/ch over 8 channels (3000W / 8).
So what are those peaks? Your typical iOS or Android sound meter app does a better job of recording peak rather than average levels, so have a listen to a demanding music or movie track at your intended listening volume, and let's see if a hypothetical 18W/ch AVR is capable of performing without clipping for someone seated 3 meters away.
First, there's a 6 dB drop in loudness for every doubling in seating distance away from the loudspeaker. (Source and calculator:
https://www.omnicalculator.com/physics/distance-attenuation
) So for the most common seating positions:
2 meters = -6 dB
3 m = -9.5 dB
4 m = -12 dB
5 m = -14 dB
6 m = -15.5 dB
8 m = -18 dB
Every 3 dB rise in audio volume requires a doubling in amplifier power. So if you standardize on 1 W providing __ dB of volume, then:
+3 dB = 2 W
+6 dB = 4 W
+9 dB = 8 W
+12 dB = 16 W
+15 dB = 32 W
+18 dB = 64 W
+21 dB = 128 W
+24 dB = 256 W
+27 dB = 512 W
+30 dB = 1024 W
Let's use some real world speakers to see what output we can get from 18 W/channel (rounded down to 16 W for convenience)
Model/ In-room sensitivity @ 1W/ Max RMS / Max dynamic / Peak SPL @ 3 m @ 16 W (-9.5 dB + 12 dB = +2.5 dB)
—————————————
M2: 89 dB / 150W / 600W / 91.5 dB
M3: 90 dB / 200W / 800W / 92.5 dB
M5HP: 91 dB / 300W / 1200W / 93.5 dB
M60: 92 dB / 250W / 1000W / 94.5 dB
M80 (4 Ohm): 94 dB / 400W / 1600W / 96.5 dB
M100 (4 Ohm): 92 dB / 600W / 2400W / 94.5 dB
So if you listen below these peak levels, an AVR is fine.
Disclaimers
- Surround channels rarely need the power demands of the front channels.
- AVR's benefit from assignable crossovers and powered subwoofers to play louder, so this analogy is not perfect. But AV pre-pro's share the same advantages.
- We're ignoring other room gain considerations such as corner loading, wall-reinforcement, and multiple loudspeakers.
- Hearing loss is cumulative. Before you turn it up, maybe enable your loudness/Fletcher-Munson switch and see if that doesn't provide a better listening experience.
- You might not actually want dynamic range. If you have it, try enabling audio compression (a.k.a. night mode) to reduce the differential between the softest and loudest audio passages. You might actually prefer that.
- You can't tell from specifications what the threshold is before you can hear loudspeaker thermal compression artifacts. For my Angstrom speakers with 4 and 5 inch drivers but rated 60W, those tonal artifacts start long before 1 W is pumped into them.
- You'll want to downsize your lifestyle one day. So don't assume supersizing is always the answer.
Conclusion
I personally never listen to music or movies that peak above 85 dB, so I'm fine with my bottom feeder AVR. But if you like it loud, then consider this another toolkit for deciding what's best for your needs.
Better and more thorough explanations can be found here:
https://www.axiomaudio.com/blog/power
https://www.axiomaudio.com/blog/sound-distortion/
https://www.axiomaudio.com/1000-amplifier
0
43
Home Theater
Re: Wireless rear speakers in HT
rrlev
05/28/23
04:42 AM
Originally Posted by BBIBH
… but the overall system is flawed
How so?
I have a few transformers for house audio and have a few issues with them ..
my biggest two are:
- Every so often I have to reset them because the device can't be found.
- The user interface is non-intuitive… which causes my wife to call me in to "fix it". 9 times out of ten it's user error but I can't blame her … I also find it frustrating.
5
155
Advice from Axiom Owners
Re: Looking for Axiom QS4 v3 wall mount suggestions
rrlev
05/25/23
06:15 AM
I have 5.1 in the family room. The surrounds are on the back wall only because of aesthetics. They are distanced asymmetrically from the MLP since 1/2 the room is taken up by the ping pong table and because the entrance will eventually have a barn door… but it works … 5.1 with QS surrounds is very forgiving… so do the best you can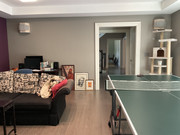 16
438
Home Theater
Re: HT in-progress
rrlev
05/21/23
06:13 PM
Had some time so I thought I'd post some thing
Trevor, you might like this … a wall board hoist is sure useful:
Makes putting up or taking down a projector, speaker,… a one man job.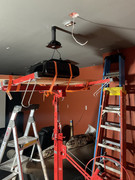 hosting the frame for the screen
The sub panel and some of the electric is in. Currently working on getting the platform ready for the carpet and finishing all the electric. More on this later ….
217
27,399
Stereo
Re: Passive LFR1100's and what to expect
MMM
05/20/23
01:59 AM
I went from M80 to a pair of LFR1100 passive about 8 years ago, so I bought into the technology when it first hit the market. The points I make were what I found and may not be valid for everyone.

The speakers are room sensitive in when I originally got the speakers I was running them in my front room on the main floor that is 12'x14' and they sounded very impressive like you were standing in the same room as the artist performing. But 2 years later I moved them downstairs to my basement to a purpose built room 15'x18', the sound seemed to degrade to the point I thought that something was missing.

I played around with several different configurations, sound treatments but nothing seemed to fix it. Then I started to think it was something with the source. When I changed the pre-amp to an Anthem (had tried a Pioneer, Marantz & Integra prior) The Anthem was like switching on the light switch and the speakers came to life and started to give the sound that I remember from when they were upstairs.

I have since traded those speakers in for a set of the Active LFR1100 with a pair of ADA1500 amps to drive them.
13
1,794
Technical Questions
Re: Differences between Ti and V2?
Kodiak
05/16/23
05:00 PM
Another thought, in the big picture for my setups and plans is I plan to bump my m60ti down into my "home theatre build" ( not even started or anything , this is purely hypothetical) and use them as the LR and get v4 for my great room. I could see buying earlier models like v2 or whatever for my theatre as for me it's a lower priority in a theatre whereas my main priority is in the 2 channel great room where I would want v4 towers and subs.

So I guess I'm saying maybe what you want to consider is how high a priority your centre channel and theatre setup is overall.

Maybe you have already done something…. Looks like your post is about a month old. Looking forward to hearing about it. Cheers.
7
791
The Water Cooler
Re: Hope all my ole homies are doing well!
Kodiak
05/16/23
04:55 AM
Sir Quack, I may not be part of the old school but I have been around a little while. I find my forum time is seasonal and comes in waves of when I have free time. I like coming here and bantering and bouncing ideas with the various players. It's good fun and I learn lots usually.

Good times here and I always enjoy the chatter with everyone. Happy to chat anytime.
8
495
Home Theater
Re: Time to upgrade?
Clark
05/13/23
05:43 PM
Thanks for those tips rrlev!
I upgraded to a 75 inch TV last month (another reason I wanted to move to on wall speakers).
Here is a pic from the couch, eyes are 10 feet from screen. I didn't close the curtains so there is some glare. I will replace the old stand with something low so the on wall can mount below the screen.[img]
https://postimg.cc/d7TVKNrx
[/img]
8
372
Forum Statistics
Most Online
2,082


Jan 22nd, 2020
Who's Online Now
0 members (), 167 guests, and 2 robots.
Key:
Admin
,
Global Mod
,
Mod